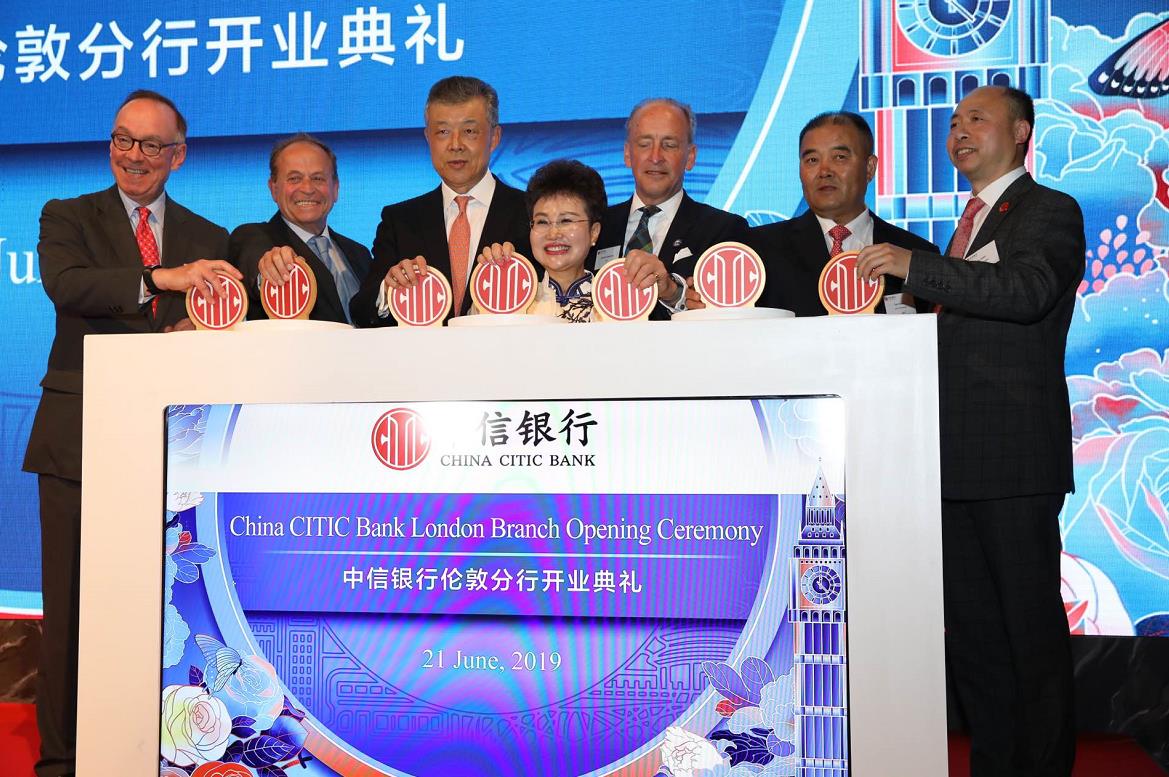 China CITIC Bank, one of China's leading commercial banks, launched its London branch on June 21.
It is the first China CITIC Bank overseas branch and its opening is a significant milestone for China CITIC Bank and the CITIC group's international development.
Almost 300 guests, representing the Chinese and British governments, business, and academic institutions attendedthe launch, which was held in the historic Drapers' Hall in the heart of the City of London.
Among the keynote speakers were Li Qingping, chairperson and the executive director of China CITIC Bank, Liu Xiaoming, China's ambassador to the United Kingdom, Sherard Cowper-Coles, China-Britain Business Council chairman-elect, and Stephen Perry, chairman of Britain's 48 Group Club.
Li Qingping said that London is one of the world's largest and most vibrant financial trading centers, as well as the largest offshore renminbi center in Europe.
"Opening the London branch will further support the bank's customers and greatly enhance the cross-border service facilities to back both the Chinese-funded enterprises and local UK enterprises with more comprehensive package of financial service," she said.
Ambassador Liu offered his congratulations on the opening of the CITIC Bank London Branch, saying it marks a new development of ever-closer China-UK financial cooperation.
In his speech, he said this is a new milestone in the efforts of Chinese banks to explore the global market, which reflects China's integration into the international financial market.
Describing the opening as "a vote of confidence"in the bright future of Sino-British financial cooperation and a further testament to China's continuing reform and opening-up, he said: "The opening proves that despite the challenges of protectionism and unilateralism, China will not close the door, instead, China will open its door even wider to the world."
Cowper-Coles said the relationship between China and the UK in the financial services sector will continue to grow, in particular as witnessed this week at the 10th China-UK Economic and Financial Dialogue.
"The Belt and Road Initiative … all the great British firms represented here are so proud to be associated. The initiative is just one symptom of China's great journey going out.We want London to accompany you on that great journey, a journey which you have navigated with diligence and intelligence and quite extraordinary hard work," he said.
"Fifty years ago, at a small boarding school, south of London, a wise teacher told me that in my lifetime, we will see Zhongguo (China) resume its rightful place in the world. That has happened, is happening, and will continue to happen," he added.
Perry, of the 48 Group Club, which is known for its contributions to strengthening Sino-UK ties, said: "Our government will continue to see the 30 percent of the world's growth comes from China. And the opportunities for us in terms of growth are with China, but more importantly … is the BRI (Belt and Road Initiative)."
"What we will find with the BRI is that more and more financial centers will open in the world, and London would have the greatest advantage if it realizes that we should take advantage of your relationship opportunities here in London to work on building financial centers outside London in BRI with Chinese banks," Perry said.
The London branch is a further testament to the bank's determination to embrace the Belt and Road Initiative and provide more tailor-made cross-border services. Riding the tide of the renminbi's internationalization,China CITIC Bank will further intensify its efforts to provide integrated local and foreign currency cross-border services and products.
China CITIC Bank was established in 1987 and completed the duo-listing of A+H shares on the Shanghai Stock Exchange and the Hong Kong Stock Exchange in April 2007. It has now grown into a comprehensive financial group with a total asset volume of more than 6.2 trillion yuan (£712 billion), and with more than 600,000 corporate clients and more than 88 million retail customers.The bank's wide-ranging business operations include corporate finance, retail finance, and market finance.
As one of the highlights of China's reform and opening-up,China CITIC Bank has been leading the way among Chinese commercial banks as they look to go global, with international development having become a key focus of the bank's effortsin recent years.
China CITIC Bank International, which is wholly owned by China CITIC Bank, has expanded its footprint to include 30 branches in Hong Kong, as well as overseas branches in New York, Los Angeles, Macau, and Singapore.
In November 2016, the China CITIC Bank officially opened its Sydney representative office. In April 2018, the bank became a shareholder in Kazakhstan's Altyn Bank. At the end of that year, Altyn Bank's customer loans exceeded 150 billion KZT (£315 million), posting a 30 percent increase and becoming the highest-rated international bank among all commercial banks in Kazakhstan.
In 2018, British magazine The Banker placed China CITIC Bank in 24th place inits "Top 500 Global Banking Brands" list, and 27th in its "Top 1,000 World Banks by Tier 1" list.
(Yan Dongjie and Han Baoyi in London)